Browse titler af samme forfatter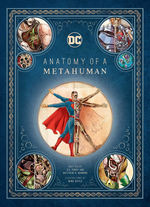 Explore the powers of DC Comics' greatest characters like never before through stunning anatomical cutaways and in-depth commentary from the Dark Knight. Concerned about the threat that so-called "metahumans" may pose to the world, Batman has begun compiling a detailed dossier on their incredible physiology and abilities. From villains like Killer Croc, Bane, and Brainiac, to Batman's own comrades, including Superman and Cyborg, the file brings together the Dark Knight's fascinating personal theories on the unique anatomical composition of these formidable individuals. This stunning and unique book delves into the incredible abilities of DC Comics characters like never before. Using beautifully illustrated anatomical cross sections depicting twelve different DC characters, the book, told from Batman's unique perspective, will explore how these "metahumans" physical makeup differs significantly from that of the average person. From detailed theories on how Superman's eyes shoot heat rays to an in-depth exploration of how Aquaman is able to breathe under water, the book delves into the deepest secrets of these classic characters. Also featuring chapters on the anatomy and abilities of Doomsday, Aquaman, Swamp Thing, Darkseid, Martian Manhunter, and more, this one-of-a-kind book will change the way you look at metahumans forever.
Udgivet af Insight Editions
S.D. & Manning Perry
SD Perry (Stephani Danelle, by the way, though she prefers SD or Danelle) has been writing novelizations and tie-ins for most of her adult life. Best known for her work in the shared multiverses of Resident Evil, Star Trek, and Aliens, SD is a horror nerd and an introvert. Her father is acclaimed science fiction author Steve Perry. Matthew K. Manning has contributed to more than 40 books and comic books, including DK's Batman: A Visual History, DC Comics: A Visual History and DC Comics: Year by Year. When not writing comics themselves, Manning often writes books about the comic book medium and its rich history.