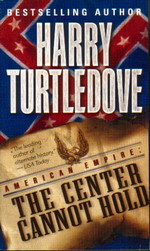 "It is 1924 - a time of rebuilding, from the slow reconstruction of Washington's most honored monuments to the reclamation of devastated cities in Europe and Canada. In the United States, the Socialist Party, led by Hosea Blackford, battles Calvin Coolidge to hold on to the Powell House in Philadelphia. And it seems as if the Socialists can do no wrong, for the stock market soars and America enioys prosperity unknown in a half century. But as old names like Custer and Roosevelt fade into history, a new generation faces new uncertainties." "The Confederate States, victorious in the War of Secession and in the Second Mexican War but at last tasting defeat in the Great War, suffer poverty and natural calamity. The Freedom Party promises new strength and pride. But if its chief seizes the reins of power, he may prove a dangerous enemy for the hated U.S.A. Yet the United States take little note. Sharing world domination with Germany, they consider events in the Confederacy of little consequence." As the 1920s end, calamity casts a pall across the continent. With civil war raging in Mexico, terrorist uprisings threatening U.S. control in Canada, and an explosion of violence in Utah, the United States are rocked by uncertainty.
Udgivet af Ballantine 1905
Harry Turtledove
Turtledove was born in Los Angeles, California. After dropping out during his freshman year at Caltech, he attended UCLA, where he received a Ph.D. in Byzantine history in 1977. In 1979, Turtledove published his first two novels, Wereblood and Werenight, under the pseudonym "Eric G. Iverson." Turtledove later explained that his editor at Belmont Tower did not think people would believe the author's real name was "Turtledove" and came up with something more Nordic. He continued to use the "Iverson" name until 1985, when he published his "Herbig-Haro" and "And So to Bed" under his real name. Another early pseudonym was "Mark Gordian." Turtledove has recently begun publishing historical novels under the pseudonym "H.N. Turteltaub" (Turteltaube means turtle dove in German). He published three books as Dan Chernenko (the Scepter of Mercy series). He has written several works in collaboration, including The Two Georges with Richard Dreyfuss, Death in Vesunna with his first wife Elaine O'Byrne, Household Gods with Judith Tarr, and others with Susan Shwartz, S.M. Stirling and Kevin R. Sandes. He is married to mystery and SF writer Laura Frankos. His brother-in-law is fantasy author Steven Frankos. He has three daughters: Alison, Rachel and Rebecca.