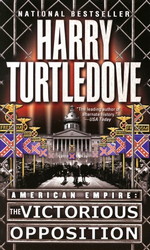 Harry Turtledove's acclaimed alternate history series began with a single question: What if the South had won the Civil War? Now, seventy years have passed since the first War Between the States. The North American continent is locked in a battle of politics, economies, and moralities. In a world that has already felt the soul-shattering blow of the Great War, North America is the powder keg that could ignite another global conflict—complete with a new generation of killing machines. "Freedom! Freedom! Freedom!" In 1934, the chant echoes across the Confederate States of America, a country born of bloodshed and passion, stretching from Mexico to Virginia. But while people use the word to greet each other in the streets, the meaning of "Freedom" has become increasingly unclear. Jake Featherston, leader of the ruling Freedom Party, has won power—and is taking his country and the world to the edge of an abyss. Charismatic, shrewd, and addicted to conflict, Featherston is whipping the Confederate States into a frenzy of hatred. Blacks are being rounded up and sent to prison camps, and the persecution has just begun. Featherston has forced the United States to give up its toeholds in Florida and Kentucky, and as the North stumbles through a succession of leaders, from Socialist Hosea Blackford to Herbert Hoover and now Al Smith, Featherston is feeling his might. With the U.S.A. locked in a bitter, bloody occupation of Canada, facing an intractable rebellion in Utah, and fatigued from a war in the Pacific against Japan, Featherston may pursue one dangerous proposition above all: that he can defeat the U.S.A. in an all-out war. The Victorious Opposition is a drama of leaders and followers, spies and traitors, lovers and soldiers. From California to Canada, from combat on the high seas to the secret meetings where former slaves plot a desperate strategy for survival, Harry Turtledove has created a human portrait of a world in upheaval. The third book in his monumental American Empire series, The Victorious Opposition is a novel of ideas, action, and surprise—and an unforgettable re-imagining of history itself.
Udgivet af Ballantine
Harry Turtledove
Turtledove was born in Los Angeles, California. After dropping out during his freshman year at Caltech, he attended UCLA, where he received a Ph.D. in Byzantine history in 1977. In 1979, Turtledove published his first two novels, Wereblood and Werenight, under the pseudonym "Eric G. Iverson." Turtledove later explained that his editor at Belmont Tower did not think people would believe the author's real name was "Turtledove" and came up with something more Nordic. He continued to use the "Iverson" name until 1985, when he published his "Herbig-Haro" and "And So to Bed" under his real name. Another early pseudonym was "Mark Gordian." Turtledove has recently begun publishing historical novels under the pseudonym "H.N. Turteltaub" (Turteltaube means turtle dove in German). He published three books as Dan Chernenko (the Scepter of Mercy series). He has written several works in collaboration, including The Two Georges with Richard Dreyfuss, Death in Vesunna with his first wife Elaine O'Byrne, Household Gods with Judith Tarr, and others with Susan Shwartz, S.M. Stirling and Kevin R. Sandes. He is married to mystery and SF writer Laura Frankos. His brother-in-law is fantasy author Steven Frankos. He has three daughters: Alison, Rachel and Rebecca.