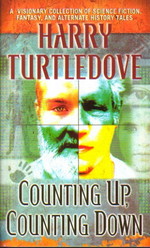 From Harry Turtledove, bestselling author and critically acclaimed master of the short story, comes a classic collection of science fiction tales and what-if scenarios. In narratives ranging from fantastic to oddly familiar to eerily prescient, this compelling volume illustrates Turtledove's literary skill and unbridled imagination. FORTY, COUNTING DOWN: With the help of his time travel software, computer genius Justin Kloster returns to the past to stop himself from making a terrible mistake–but all actions have their consequences. THE MALTESE ELEPHANT: A legendary detective finds himself in grave danger when a noir masterpiece takes a stunning new twist. GODDESS FOR A DAY: Taking a page from history, a young girl dares to challenge the gods–and is richly rewarded for her efforts. DECONSTRUCTION GANG: Mired in unemployment and despair, an academic finds happiness and intellectual fulfillment in a most unexpected place. TWENTY-ONE, COUNTING UP: Justin Kloster's college life and romantic dreams are rudely interrupted–and irreversibly disrupted–when forty-year-old Justin arrives from the future to save him from himself. Plus twelve more thrilling, unforgettable tales of wonder!
Udgivet af Ballantine
Harry Turtledove
Turtledove was born in Los Angeles, California. After dropping out during his freshman year at Caltech, he attended UCLA, where he received a Ph.D. in Byzantine history in 1977. In 1979, Turtledove published his first two novels, Wereblood and Werenight, under the pseudonym "Eric G. Iverson." Turtledove later explained that his editor at Belmont Tower did not think people would believe the author's real name was "Turtledove" and came up with something more Nordic. He continued to use the "Iverson" name until 1985, when he published his "Herbig-Haro" and "And So to Bed" under his real name. Another early pseudonym was "Mark Gordian." Turtledove has recently begun publishing historical novels under the pseudonym "H.N. Turteltaub" (Turteltaube means turtle dove in German). He published three books as Dan Chernenko (the Scepter of Mercy series). He has written several works in collaboration, including The Two Georges with Richard Dreyfuss, Death in Vesunna with his first wife Elaine O'Byrne, Household Gods with Judith Tarr, and others with Susan Shwartz, S.M. Stirling and Kevin R. Sandes. He is married to mystery and SF writer Laura Frankos. His brother-in-law is fantasy author Steven Frankos. He has three daughters: Alison, Rachel and Rebecca.