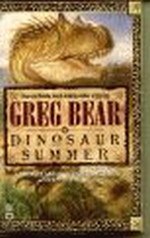 Peter Belzoni is dreading summer in Manhattan. Then his father, photojournalist Anthony Belzoni, offers the youth a job, a byline in National Geographic...and a trip to South America. For the Lothar Gluck Circus, once the world's foremost dinosaur attraction, has gone bankrupt. Left behind is a menagerie of avisaurs, centrosaurs, and ankylosaurs, as well as one large predatory raptor named Dagger. And now two filmmakers and the circus trainer plan to return the giants to the wild - with Peter and his dad chronicling the odyssey for Geographic. The task seems impossible. Many have died trying to bring beasts out of the Lost World, the plateau of El Grande in Venezuela, but nobody has ever attempted to transport nearly a dozen fullgrown, multiton prehistoric creatures across continents, down rivers, through jungles, and up a mountain that has been isolated for 70,000,000 years... The trek will strain the technologies of trains, cargo ships, barges, trucks...en route lurk robbers and hostile, trigger-happy soldiers...and each mile toward freedom excites Dagger toward an unstoppable, primal killing frenzy. When the unthinkable threatens to strand Peter and the rest of the crew in an uncharted realm, four modern Americans will face all the unknown dangers, mysteries, and terrors of El Grande...
Udgivet af Warner 1905
Greg Bear
Greg Bear was born in San Diego, California. He is the author of more than thirty books of science fiction and fantasy, including BLOOD MUSIC, THE FORGE OF GOD, DARWIN'S RADIO, and QUANTICO. Awarded two Hugos and five Nebulas for his fiction, one of two authors to win a Nebula in every category, Bear has been called the "Best working writer of hard science fiction" by "The Ultimate Encyclopedia of Science Fiction." Bear has served on political and scientific action committees and has advised Microsoft Corporation, the U.S. Army, the CIA, Sandia National Laboratories, Callison Architecture, Inc., Homeland Security, and other groups and agencies. He is married to Astrid Anderson Bear and is the father of Erik and Alexandra. They live outside of Seattle, Washington.