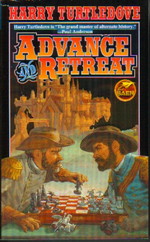 Turning the American Civil War literally upside-down, this winning fantasy brings to life a war to free the blond serfs of the North and raise them to equality beside their swarthy masters. Turtledove not only swaps South for North but replaces rifles with crossbows, horses with unicorns and railways with magic carpets. The book opens in the fourth year of the war, when it's clear that the gray-clad armies of King Avram of Detina have the advantage over the followers of the traitorous Grand Duke Geoffrey, who has proclaimed himself king of the seceded North. Many Northern infantrymen have been reduced to robbing Southern bodies for shoes and warm clothing; and while the North has the best wizards, the Southern engineers have invented a rapid-firing crossbow that gives their soldiers a tremendous advantage in battle. The course of this war closely parallels the real one, which makes for a somewhat predictable story but clears the way for a focus on the various entertaining and well-drawn characters, including numerous homages to-or parodies of-various historical figures. Charm and humor balance out the grimly realistic depictions of battlefields and occupied towns, flavor the beautifully subtle treatment of racism and help to mask the occasional lack of descriptive detail. While perhaps best suited to Civil War buffs, this tale proves quite enjoyable for the less tactically inclined, and it's a must-have for any fan of alternate histories.
Udgivet af Baen 1905
Harry Turtledove
Turtledove was born in Los Angeles, California. After dropping out during his freshman year at Caltech, he attended UCLA, where he received a Ph.D. in Byzantine history in 1977. In 1979, Turtledove published his first two novels, Wereblood and Werenight, under the pseudonym "Eric G. Iverson." Turtledove later explained that his editor at Belmont Tower did not think people would believe the author's real name was "Turtledove" and came up with something more Nordic. He continued to use the "Iverson" name until 1985, when he published his "Herbig-Haro" and "And So to Bed" under his real name. Another early pseudonym was "Mark Gordian." Turtledove has recently begun publishing historical novels under the pseudonym "H.N. Turteltaub" (Turteltaube means turtle dove in German). He published three books as Dan Chernenko (the Scepter of Mercy series). He has written several works in collaboration, including The Two Georges with Richard Dreyfuss, Death in Vesunna with his first wife Elaine O'Byrne, Household Gods with Judith Tarr, and others with Susan Shwartz, S.M. Stirling and Kevin R. Sandes. He is married to mystery and SF writer Laura Frankos. His brother-in-law is fantasy author Steven Frankos. He has three daughters: Alison, Rachel and Rebecca.