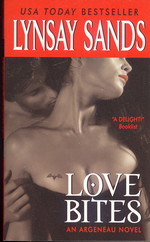 True love: good from the first bite . . . Etienne Argeneau's three hundred years of bach- elorhood were at an end. Either that, or he'd be forever alone. He could turn only one human in his lifetime, and most of his kind created a life mate. If he turned this stranger . . . But what choice did he have? He had to help Rachel Garrett. The beautiful coroner had saved his life. To save hers, he would make her immortal. . . . to the last Rachel Garrett awoke surprised. All she'd wanted was to get off the night shift in the morgue; now here she was staggering to her feet naked and in a strange place. But everything would be all right. She'd just make like a bat out of— Then she saw the man of her dreams emerging from his . . . coffin? And the look in his bright silver eyes said they'd be spending a lot of time together. She just hoped he tasted as good as he looked.
Udgivet af Harper Collins US
Lynsay Sands
Lynsay Sands (born Leamington, Ontario) is an award winning Canadian author of over 30 books. She is noted for the humor she injects into her stories. While she writes both historical and paranormal novels, she is best known for her Argeneau series about a modern family of vampires. Sands grew up in Southern Ontario. Before college, Sands sent in a manuscript to Harlequin Enterprises, but got a response asking for a rewrite and anything else she had written; taking this as a rejection, Sands went on to study at the University of Windsor full time while working full time. Sands published her first novel, The Deed, in 1997. Sands has written for three publishing houses: HarperCollin, Dorchester, and Kensington. Her novels have made the Waldens Books, Barnes & Noble, USA Today and The New York Times Bestsellers lists.