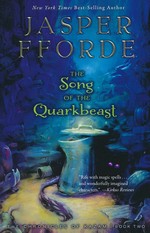 Magic has been in a sad state in the Ununited Kingdom for years, but now it's finally on the rise, and boneheaded King Snodd IV knows it. If he succeeds at his plot, the very future of magic will be at risk! Sensible sixteen-year-old Jennifer Strange, acting manager of Kazam Mystical Arts Management and its unpredictable crew of sorcerers, has little chance against the king and his cronies—but there's no way Kazam will let go of the noble powers of magic without a fight. A suspenseful, satirical story of Quarkbeasts, trolls, and wizidrical crackle!
Udgivet af Houghton Mifflin
Jasper Fforde
Jasper Fforde was an enthusiastic member of the film industry for nineteen years before becoming published. Author of five 'Thursday Next' and two 'Nursery Crime' books, he says that writing is "The same as filming, really. Only you do all of the jobs, and not just one." He currently lives and works in Wales, where his hobbies include family, flying and photography. 'Shades of Grey', Due out in January 2010, will be his eighth novel. His mother, wife, editor and children all think it's really good.