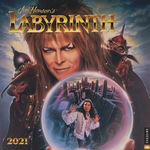 Jim Henson's Labyrinth 2021 Wall Calendar features images from the iconic Jim Henson movie, now celebrating its 31st anniversary. Released 31 years ago, Labyrinth is a seminal film for an entire generation of fans, who are now passing their love for this movie on to their own children. Starring a young Jennifer Connelly as a babysitter who gets more than she bargained for when the idle wish she makes for her annoying baby brother to be taken away is granted by an evil goblin king...played by David Bowie. Sarah (Connelly) is given 13 hours to solve the titular Labyrinth, or else risk losing her brother forever. Directed by Jim Henson, and featuring creatures created by the world famous Henson Creature Shop, Labyrinth is a spectacle unlike any other.
Udgivet af Universe Publishing
Jim Henson
James Maury "Jim" Henson was the most widely known puppeteer in American television history. He was the creator of The Muppets and the leading force behind their long creative run in the television series Sesame Street and The Muppet Show and films such as The Muppet Movie (1979) and The Dark Crystal (1982). He was also an Oscar-nominated film director, Emmy Award-winning television producer, and the founder of The Jim Henson Company, the Jim Henson Foundation, and Jim Henson's Creature Shop. Henson is widely acknowledged for the ongoing vision of faith, friendship, magic, and love which infused nearly all of his work.