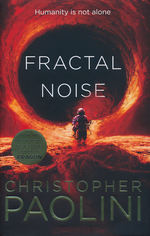 On the planet Talos VII, twenty-three years before the events of To Sleep in a Sea of Stars, an anomaly is detected. A vast circular pit, with dimensions so perfect that it could only have been the result of conscious design. So a small team is assembled to learn more – perhaps even who built the hole and why. Their mission will take them on a hazardous trek to the very edge of existence. For one explorer, this is the opportunity of a lifetime. For another, a risk not worth taking. And for xenobiologist Alex Crichton, it's a desperate attempt to find meaning in an uncaring universe. But every step they take toward that mysterious abyss is more punishing than the last. Ultimately, no one is prepared for what they will encounter
Udgivet af Pan Macmillan Distribution Ltd.
Christopher Paolini
Christopher Paolini (born November 17, 1983 in Southern California) is an American novelist. He was raised in the Paradise Valley, Montana area. Home schooled for the duration of his education, Paolini graduated from high school at the age of 15 through a set of accredited correspondence courses from American School of Correspondence in Lansing, Illinois. Following graduation, he started his work on what would become the novel Eragon, the first of the Inheritance Cycle series, set in the mythical land of Alagaësia. In 2002, Eragon was published by Paolini International LLC, Paolini's parents' company. To promote the book, Paolini toured over 135 schools and libraries, discussing, reading and writing, all the while dressed in "a medieval costume of red shirt, billowy black pants, lace-up boots, and a jaunty black cap". Paolini created the cover art for the first edition of Eragon, which featured Saphira's eye. He also drew the maps on the inside covers of his books. In Summer 2002, the stepson of author Carl Hiaasen found Eragon in a bookstore and loved it, and Hiaasen brought it to the attention of his publisher, Alfred A. Knopf. Knopf subsequently made an offer to publish Eragon and the rest of the Inheritance cycle. The second edition of Eragon was published by Knopf in August 2003. At the age of nineteen, Paolini became a New York Times bestselling author. Eragon has since been adapted into a film of the same name. Paolini's essay "It All Began with Books" was included in the April 2005 anthology Guys Write for Guys Read. To date, the Inheritance Cycle has sold more than 20 million copies.