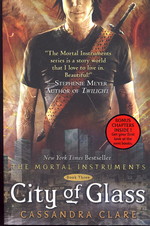 To save her mother's life, Clary must travel to the City of Glass, the ancestral home of the Shadowhunters -- never mind that entering the city without permission is against the Law, and breaking the Law could mean death. To make things worse, she learns that Jace does not want her there, and her best friend, Simon, has been thrown in prison by the Shadowhunters, who are deeply suspicious of a vampire who can withstand sunlight. As Clary uncovers more about her family's past, she finds an ally in mysterious Shadowhunter Sebastian. With Valentine mustering the full force of his power to destroy all Shadowhunters forever, their only chance to defeat him is to fight alongside their eternal enemies. But can Downworlders and Shadowhunters put aside their hatred to work together? While Jace realizes exactly how much he's willing to risk for Clary, can she harness her newfound powers to help save the Glass City -- whatever the cost? Love is a mortal sin and the secrets of the past prove deadly as Clary and Jace face down Valentine in the final installment of the New York Times bestselling The Mortal Instruments.
Udgivet af Pocket Books
Cassandra Clare
Judith Lewis (née Rumelt, born July 27, 1973), better known by her pen name Cassandra Clare, is an American author of young adult fiction, best known for her bestselling series The Mortal Instruments. In 2004, Clare started working on her first-published novel, City of Bones, inspired by the urban landscape of Manhattan. City of Bones was released by Simon & Schuster in 2007 and is a contemporary fantasy story revolving around characters Clary Fray, Jace Wayland, and Simon Lewis, which became a The New York Times bestseller upon its release. City of Ashes and City of Glass completed the first trilogy. A subsequent second trilogy contained three more books: City of Fallen Angels, City of Lost Souls, and City of Heavenly Fire. There is a prequel trilogy called The Infernal Devices, which is set in the same universe as The Mortal Instruments, but set in the Victorian era. A fourth trilogy set in this universe was announced in 2012, to be collectively known as The Dark Artifices. There are also two series of interconnected short stories set in this universe. The first is The Bane Chronicles, completed in 2014 and written with Sarah Rees Brennan and Maureen Johnson, and the second is the planned Tales from the Shadowhunter Academy, written with Brennan and Johnson as well as Robin Wasserman.