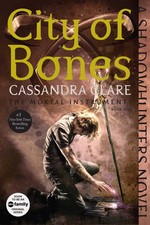 Their hidden world is about to be revealed.... When fifteen-year-old Clary Fray heads out to the Pandemonium Club in New York City, she hardly expects to witness a murder -- much less a murder committed by three teenagers covered with strange tattoos and brandishing bizarre weapons. Clary knows she should call the police, but it's hard to explain a murder when the body disappears into thin air and the murderers are invisible to everyone but Clary. Equally startled by her ability to see them, the murderers explain themselves as Shadowhunters: a secret tribe of warriors dedicated to ridding the earth of demons. Within twenty-four hours, Clary's mother disappears and Clary herself is almost killed by a grotesque demon. But why would demons be interested in ordinary mundanes like Clary and her mother? And how did Clary suddenly get the Sight? The Shadowhunters would like to know....
Udgivet af Pocket Books
Cassandra Clare
Judith Lewis (née Rumelt, born July 27, 1973), better known by her pen name Cassandra Clare, is an American author of young adult fiction, best known for her bestselling series The Mortal Instruments. In 2004, Clare started working on her first-published novel, City of Bones, inspired by the urban landscape of Manhattan. City of Bones was released by Simon & Schuster in 2007 and is a contemporary fantasy story revolving around characters Clary Fray, Jace Wayland, and Simon Lewis, which became a The New York Times bestseller upon its release. City of Ashes and City of Glass completed the first trilogy. A subsequent second trilogy contained three more books: City of Fallen Angels, City of Lost Souls, and City of Heavenly Fire. There is a prequel trilogy called The Infernal Devices, which is set in the same universe as The Mortal Instruments, but set in the Victorian era. A fourth trilogy set in this universe was announced in 2012, to be collectively known as The Dark Artifices. There are also two series of interconnected short stories set in this universe. The first is The Bane Chronicles, completed in 2014 and written with Sarah Rees Brennan and Maureen Johnson, and the second is the planned Tales from the Shadowhunter Academy, written with Brennan and Johnson as well as Robin Wasserman.