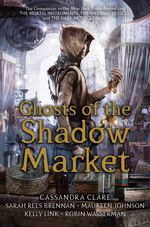 The Shadow Market is a meeting point for faeries, werewolves, warlocks, and vampires. There, the Downworlders buy and sell magical objects, make dark bargains, and whisper secrets they do not want the Nephilim to know. Through two centuries, however, there has been a frequent visitor to the Shadow Market from the City of Bones, the very heart of the Shadowhunters' world. As a Silent Brother, Brother Zachariah is a sworn keeper of the laws and lore of the Nephilim. But once he was a Shadowhunter called Jem Carstairs, and his love, then and always, is the warlock Tessa Gray. And Jem is searching through the Shadow Markets, in many different cities over long years, for a relic from his past. Follow Jem and see, against the backdrop of the Shadow Market's dark dealings and festival, Anna Lightwood's doomed romance, Matthew Fairchild's great sin, and Tessa Gray as she is plunged into a world war. Valentine Morgenstern buys a soul at the Market and a young Jace Wayland's soul finds safe harbor. In the Market is hidden a lost heir and a beloved ghost, and no one can save you once you have traded away your heart. Not even Brother Zachariah.
Udgivet af Simon & Schuster
Cassandra Clare
Judith Lewis (née Rumelt, born July 27, 1973), better known by her pen name Cassandra Clare, is an American author of young adult fiction, best known for her bestselling series The Mortal Instruments. In 2004, Clare started working on her first-published novel, City of Bones, inspired by the urban landscape of Manhattan. City of Bones was released by Simon & Schuster in 2007 and is a contemporary fantasy story revolving around characters Clary Fray, Jace Wayland, and Simon Lewis, which became a The New York Times bestseller upon its release. City of Ashes and City of Glass completed the first trilogy. A subsequent second trilogy contained three more books: City of Fallen Angels, City of Lost Souls, and City of Heavenly Fire. There is a prequel trilogy called The Infernal Devices, which is set in the same universe as The Mortal Instruments, but set in the Victorian era. A fourth trilogy set in this universe was announced in 2012, to be collectively known as The Dark Artifices. There are also two series of interconnected short stories set in this universe. The first is The Bane Chronicles, completed in 2014 and written with Sarah Rees Brennan and Maureen Johnson, and the second is the planned Tales from the Shadowhunter Academy, written with Brennan and Johnson as well as Robin Wasserman.