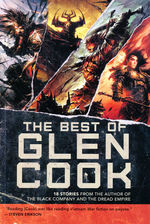 The best short fiction of legendary author Glen Cook (The Black Company, the Dread Empire) is collected into a new paperback volume. For over forty years, Glen Cook has been among the most well-known, influential, and widely respected authors in science fiction and fantasy. Through classic series such as The Black Company, Garrett P.I., the Dread Empire, Starfishers, Darkwar, and more, his gritty, down-to-earth style left an indelible impression on his readers around the world, forever shifting the genre landscape and carving out his place as a pioneering icon. The Best of Glen Cook collects eighteen of his greatest stories—as chosen and introduced by the author himself—including a new, never-before-published Black Company novelette. With works set in all of his most famous series, these tales of science fiction and fantasy offer both the perfect way for longtime fans to trace Cook's history and for new readers to become familiar with one of the finest genre authors of the twentieth century.
Udgivet af Night Shade Books
Glen Cook
Glen Cook's love of writing began in grade school, and in high school he wrote the occasional article for his school's newspaper. After high school, Cook spent time in the United States Navy and later worked his way through college, leaving little time for his writing endeavors. Cook began to write in earnest while working for General Motors at an auto assembly plant. Cook claims that his job was simple enough to leave him ample time to write while at work; in fact, Cook admits to having written as many as three books per year while working at the plant. It was during this time that Cook wrote his first novel of The Black Company, a gritty fantasy series that follows an elite mercenary unit through several decades of their history. The series, currently 10 novels long, has become something of a cult classic, especially among current and former members of the military. When asked about the series' popularity among soldiers, Cook replied: "The characters act like the guys actually behave. It doesn't glorify war; it's just people getting on with the job. The characters are real soldiers. They're not soldiers as imagined by people who've never been in the service. That's why service guys like it.". Cook is also well known for his Garrett P.I. series, which tells the haphazard adventures of hardboiled detective Garrett, and his Dread Empire series, which highlights Cook's earlier published work. Cook is currently retired from his job at GM, living with his wife, Carol, and children (Justin, Chris, and Mike) in St. Louis, Missouri. Although he can now devote himself full-time to his writing career, he feels he was actually more productive while he was still employed at his old job.