Browse titler i samme serie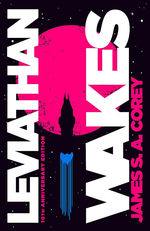 This special 10th anniversary edition celebrates the revolutionary first book of the New York Times bestselling and Hugo award winning Expanse series a modern masterwork of science fiction with over 4 million copies sold worldwide. Humanity has colonized the planets - interstellar travel is still beyond our reach, but the solar system has become a dense network of colonies. But there are tensions - the mineral-rich outer planets resent their dependence on Earth and Mars and the political and military clout they wield over the Belt and beyond. Now, when Captain Jim Holden's ice miner stumbles across a derelict, abandoned ship, he uncovers a secret that threatens to throw the entire system into war. Attacked by a stealth ship belonging to the Mars fleet, Holden must find a way to uncover the motives behind the attack, stop a war and find the truth behind a vast conspiracy that threatens the entire human race.
Udgivet af Orbit
James S. A. Corey
James S. A. Corey is the pen name used by collaborators Daniel Abraham and Ty Franck, authors of the science fiction series The Expanse. The first and last name are taken from Abraham's and Franck's middle names, respectively, and S. A. are the initials of Abraham's daughter. The name is also meant to emulate many of the space opera writers of the 1970s. In Germany, their books are published under the name James Corey with the middle initials omitted. Under the pen name James S. A. Corey, fantasy author Daniel Abraham began to collaborate with personal assistant to George R. R. Martin Ty Franck in 2011. Together they wrote Leviathan Wakes (2011), the first science fiction novel in the series The Expanse. The authors began to release other novels in the series including Caliban's War (2012), Abaddon's Gate (2013), Cibola Burn (2014), Nemesis Games (2015), Babylon's Ashes (2016), and Persepolis Rising (2017). Between each pair of full-length books they published shorter works in the series. The first, a short story entitled "The Butcher of Anderson Station: A Story of The Expanse" was released as an eBook in October 2011. A 69-page novella, Gods of Risk followed, and was released as an eBook on September 2012. A short story entitled "Drive" was released in November 2012 as a part of the anthology Edge of Infinity. Another novella, The Churn, was released April 29, 2014. All are set in The Expanse series. The authors have also written a Star Wars novel, Honor Among Thieves and a short story unrelated to The Expanse titled "A Man Without Honor", included in the anthology Old Mars, edited by George R. R. Martin.