Browse titler i samme serie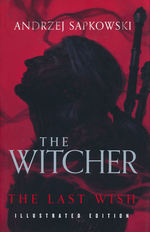 Featuring seven gorgeous new illustrations from seven award-winning artists—one for each story in the collection of adventures—this special edition celebrates the first chapter of Andrzej Sapkowski's bestselling, groundbreaking series that inspired the hit Netflix show and the blockbuster video games. Geralt is a Witcher, a man whose magic powers, enhanced by long training and a mysterious elixir, have made him a brilliant fighter and a merciless assassin. Yet he is no ordinary killer. His sole purpose: to destroy the monsters that plague the world. But not everything monstrous-looking is evil and not everything fair is good...and in every fairy tale there is a grain of truth.
Udgivet af Gollancz
Andrzej Sapkowski
Andrzej Sapkowski, born 21 June 1948 in Lodz, is a Polish fantasy writer. Sapkowski studied economics, and before turning to writing, he had worked as a senior sales representative for a foreign trade company. His first short story, The Witcher (Wiedzmin), was published in Fantastyka, Poland's leading fantasy literary magazine, in 1986 and was enormously successful both with readers and critics. Sapkowski has created a cycle of tales based on the world of The Witcher, comprising three collections of short stories and five novels. This cycle and his many other works have made him one of the best-known fantasy authors in Poland in the 1990s. In 1997, Sapkowski won the prestigious Polityka's Passport award, which is awarded annually to artists who have strong prospects for international success. In 2001, a Television Series based on the Witcher cycle was released in Poland and internationally, entitled Wiedzmin (The Hexer). A film by the same title was compiled from excerpts of the television series but both have been critical and box office failures. Sapkowski's books have been translated into Czech, Russian, Lithuanian, German, Spanish, French, Ukrainian, Portuguese, and others. An English translation of The Last Wish short story collection was published by Gollancz in 2007. From 2009 the Witcher saga is published by Gollancz. The Polish game publisher, CD Projekt, created a role-playing PC game based on this universe, called The Witcher, which was released in October 2007. There is also a mobile version of the game which has been created by Breakpoint Games and is being published by Hands-On Mobile in Western Europe,Latin America and Asia Pacific. The English translation of Sapkowski's novel Blood of Elves won the David Gemmell Legends Award in 2009.